Portable 4,000W PA with Line-array Precision
Rolling your own shows and events just got tons (literally) easier with Sweetwater's exclusive Bose F1 bundle. This 4-piece powerhouse includes a pair of F1 Model 812 mains, each with a 12″ driver and 8-speaker mini arrays to direct sound to every ear in the house, plus a pair of matching F1 powered subs to round out the mix with punchy, powerful kick drums and earth-moving bass. Though all four speakers weigh in at just 200 lbs. total, the Bose F1 bundle packs a mighty 4,000 watts (Bose watts, mind you) to really fill a room. For power, precision, and portability, it's tough to top the Bose F1 bundle from Sweetwater.
Bose F1 Model 812 mains are suitcase-sized mini arrays
Sweetwater live sound engineers know too well that no two gigs — and no two venues — are created equal. From elevated stages and bandstands to floor-level "cafegymatoriums," every new room presents a PA coverage challenge. But the Bose F1 Model 812 flexible-array loudspeaker offers you a way to shape your speakers' vertical output line-array style, so you can match your system to the needs of the venue. That means you get big-system performance from a portable PA! Bose revolutionized live sound with its L1 Series speakers, and the F1 system delivers a new level of easy setup, rugged durability, and outstanding sound.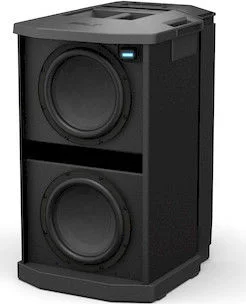 Bose F1 powered subs round out your low end
The Bose F1 subwoofer is a great compact sub for the F1 system. Its 1,000-watt platform and twin 10″ drivers make sure your low end stays punchy. You can even switch between full-range and highpass-filter modes, making the F1 sub great with a main speaker. And best of all, the whole subwoofer package weighs under 60 lbs. — a mobile rig's dream sub. And there's no more carrying around pesky speaker stands, because the F1 sub comes with a built-in bracket for mounting Bose's F1 812 flexible-array loudspeaker.
Bose F1 Model 812 and Subwoofer Bundle Features:
Portable 4,000W PA with line-array precision
Includes 2 Bose F1 Model 812 loudspeakers and 2 Bose F1 powered subs
Much more compact than other similarly classed PA systems
Frequency range: 38Hz–16kHz
Integrated mounting brackets — no stands required
Speakers and subs rated at 1,000 watts each
High-output Class D amplifiers
Model 812 mains pack 12″ drivers and 8-driver line array
F1 powered subwoofers boast 10″ high-excursion drivers
Custom 100-degree waveguide delivers consistent coverage